Save 55% On All
Sterling Silver Jewelry
Every Time You Visit!
*discount is already applied

Free Shipping On Orders
$100 Or More!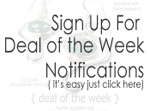 We are the proud home
of Jay King's jewelry.
Yes - that Jay King!
Desert Rose Trading is the home of Jay King
where you'll find unique and timeless jewelry
that you will treasure for a lifetime.
Discover what's going on with one of HSN's
favorite guest hosts while he's gathering the
next Mine Find's and gearing up for his next show.